A dominant Sporting Kansas City welcomed Chivas USA into the cauldron that is Sporting Park on Sunday night, steamrolling them into a commanding 4-0 victory. The performance saw SKC take a share of the top spot in the Eastern conference, along with a reminder that they're a ruthless team when on form. Chivas may feel that the red card for Dan Kennedy help flatter the score line, however SKC's dominance was in effect well before then.
Lineups:
Sporting Kansas City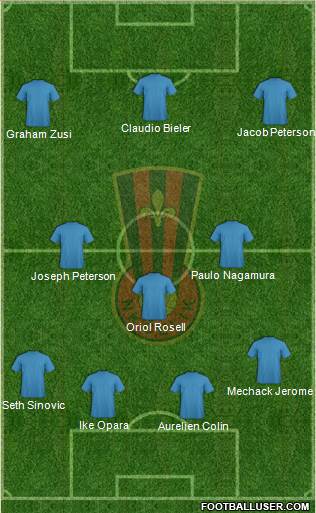 Sporting trotted out their usual attacking 4-3-3, complete with high pressing, recycled possession, and creative play. In the back, Seth Sinovic as usual is the selection at left back. Rookie Mechack Jerome started at right back. The towering pair of Ike Opara and Aurelien Colin may be the most aerially adept in the league. SKC's three man midfield often resembles that of Juventus', two hard working box-to-box midfielders flanking a calm, passing regista. Oriol Rosell fills what has often been dubbed the "Pirlo role" using his Barca bred passing skills to great effect. The front three started roughly with that shape seen in the graphic, however Graham Zusi is so influential he basically goes where he wants, often making Peterson switch flanks, or just causing an overload on one side. Designated player Claudio Bieler fills the striker role as expected.
Chivas USA: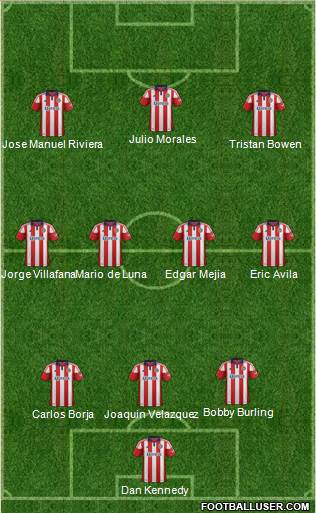 Differing from the 3-5-1-1 they went with last week. Head Coach Chelis decided to switch up and go with a 3-4-3, which offers more help in wide positions than the 3-5-1-1, provided the wide forewords track back effectively. The back three this game consisted of Carlos Borja, Joaquin Velazquez, and Bobby Burling. In another shuffling of the deck from Chivas' last game, Chelis moved Burling out to right center back, given the Joaquin Velazquez the center back role that Steve Purdy had last week. Carlos Borja moved from center midfield into left center back, which Velazquez played last week. Chelis moved Mario de Luna into the midfield, he started at right center back last week. With the back line well and truly flipped around, Chelis continued the rotating, inserting Edgar Mejia into the starting center midfield role alongside de Luna. Jorge Villafana kept his place at left midfield, however Eric Avila was moved from center midfield to right midfield. The attacking trident at the top saw Jose Manuel Riviera, Julio Morales, and Tristan Bowen spread left-to-right across the field.
Goals:
40th Minute Claudio Bieler (Graham Zusi) 1-0:
The play started with Chivas in possession on the right flank in SKC's defensive zone. Eric Avila attempted to slip a pass in between Oriol Rosell and Seth Sinovic, Sinovic picked it out and Rosell carried it out of SKC's zone. Rosell played a quick ball to Graham Zusi, keeping the play on the same side. Zusi tried to switch the ball, on the ground, across the middle to Bieler, his pass was too long and picked off by Carlos Borja. Instead of hoofing it out of danger, Borja tried to pass it back to either Burling or Velazquez, the ball ended up splittling the two of them. Burling corralled the errant back pass just in time to steer it away from Jacob Peterson, however his touch fell into the path of the on charging Graham Zusi. Zusi picked his head up and found Bieler, who had pulled off the back of Borja, finding himself wide open on the right side. Bieler controlled the ball, danced around the keeper, and slotted home coolly. Burling could have dealt with the danger better, but it was ultimately Borja who but him in that precarious position. It was also Borja who failed to track the off ball movements of Bieler, allowing him to pull into the truck load of space vacated by the pressing Jacob Peterson. Eric Avila turnover caused the ruckus in the first place, but his mistake was subject to lightning quick counter attacking from SKC, so I'm less inclined to bash him for the play.
56th Minute Claudio Bieler 2-0:
SKC's second goal began with under pressure Rosell passing out of pressure. No surprise there, Rosell often exudes a higher class in the midfield. His pass found left back Seth Sinovic. Sinovic then played Zusi, checking back to the ball. Zusi then turned and played a stunning no-look ball through the Chivas defense to Paulo Nagamura. Chivas goalkeeper Dan Kennedy had fully committed himself and fell prey to Nagamura's quick feet, giving up the penalty. Kennedy received a red card for his troubles, leaving reserve keeper Patrick McClain the task of saving the ensuing penalty. He couldn't, Beieler coolly sending him the wrong way, giving SKC an insurance goal as well as a man advantage. The came about because Burling and Veleazquez couldn't get their offside line together, allowing Nagamura to skip through. Nevertheless this is the type of goal where the majority of attention should be placed on Zusi, who played an outstanding through ball, further showing his seemingly limitless class.
65th Minute Graham Zusi (Josh Gardner, Paulo Nagamura) 3-0:
The third goal always felt inevitable, with the man advantage aiding SKC's already high production attack. Oriol Rosell was afforded time in the back to pick an entry pass to Claudio Bieler, who had checked back 25 yards to find the ball. He turned and played Paulo Nagamura. Nagamura found life pretty easy, waltzing through the depleted defense, eventually finding Josh Garner wide open on the left side. Mario de Luna couldn't get out quick enough to challenge the cross, leaving Gardner time to pick a sumptuous ball across the middle to Zusi, who promptly first timed it past the keeper. Burling was in front of Zusi but couldn't reach the low cross, leaving Zusi unmarked to turn it home.
87th Minute C.J Sapong 4-0:
The final goal to cap off the night began with Velazquez clearing an errant cross aimed to Sapong. The clearence was picked up by Sinovic and played to Rosell, he produced a lovely cross field ball to the open Mechack Jerome. Jerome, a mostly defensive fullback, played a perfect ball, splitting Carlos Alvarez and Velazquez to find Sapong, who volleyed home with aplomb. Fault for this one could really go to any of Alvarez, Velazquez, or Burling. They all failed to get anywhere near to Sapong, however at this point the game was pretty much over.
Topics of interest:
Sporting pressure causes problems:
Chivas' wanted to employ their typical counter attacking style, however SKC's combative style and pressing gave them consistent problems. In last weeks game, Chivas passed with an accuracy of 69%, completed 204 passes. Pretty poor numbers, but somewhat excusable considering their intent to counter off of San Jose. This Sunday's game saw much worse, a 59% passing accuracy while misplacing 122 passes. Combine that with Chivas' 1 shot during the entire game and you have a pretty abysmal performance, chalk this one up not only as a win not only for Sporting but also their pressing system.
3 beats 2 in the midfield:
The first half was catastrophic for Chivas with Sporting's domination in possession. The midfield trifecta of Peterson, Nagamura, and Rosell single handedly bossed the game, fluidly feeding the front three. Often allowing Graham Zusi crucial space to work his creative abilities. Peterson, Nagamura, and Rosell completed 149 passes at an 85% clip, a ridiculous domination. It wasn't all pretty passing, the three collectively made 6 tackles and 7 interceptions, as well as winning plenty 50/50. SKC only allowed Chivas' midfield make 51 passes in the entire game, reducing the visiting side to long balls and hopeful 1-on-1 play on the wings.
3-4-3 still gives SKC advantage out wide:
Chivas' formational change was intended to give them some extra help on the wings while adding some potency up top. All it ended up doing was taking away players from the center, allowing Chivas to be dominated in the center by SKC's midfielders. Sporting completed a whopping 178 passes in the wide areas, doubling Chivas' 78 passes. This dominance allowed them to try 19 crosses, landing 6 of them. Having an extra man in a wide position did nothing for Chivas, as Riviera and Bowen weren't too keen to track back and even up numbers.
Chivas formation change:
After recognizing the beating Chivas were taking in the midfield, head coach Chelis switched to a 3-5-2 formation. Mario De Luna shifted to right center back, Riviera went into the midfield, and the newly inserted Miller Bolanos went up top. Having three in the midfield helped Chivas out marginally, somewhat slowing the fluidity of SKC's rapid attacks, but the gap in class was too much to overcome on the day.
Red Card forces Chivas change:
Adding to Chivas' misery on the day was the red card to Dan Kennedy early in the second half. This forced Chivas to further alter their shape, molding into a 4-4-1. The necessary goalkeeping sub required Riviera to come off, moving Bolanos to the wing, leaving Morales up top alone. The new formation forced Chivas to go with two in the midfield again, leading to the utter domination seen in the first.
SKC see out the game in style:
Predictably, SKC simply increased their stranglehold on the game after Chivas went down to 10 men, scoring two more goals with plenty potential for more. Josh Gardner's introduction provided more or less the same width as Peterson did, except with more classic winger aspects. Staying wide, and whipping crosses in behind the defense, setting up Graham Zusi for a tap in in the 65th. C.J Sapong came on for Graham Zusi in the 65th, taking up a position wide on the right. Though raw, Sapong gave a great audition for inclusion over Peterson next match, constantly taking advantage of space in wide places. Feilhaber came on for Nagamura with Sporting in full cruise mode, Feilhaber isn't very defensively capable but at that point it didn't matter much.
Zusi looks like an MVP:
One of the early season favorites for the MVP award, Graham Zusi is putting in some performances fitting of the award. A goal and an assist today, coupled with the pass that lead to the penalty, stakes his claim firmly as a early season front runner. In addition to the obvious box sheet contributions, Zusi was literally everywhere in Sporting's attack, linking up neatly with his midfielders and attacking partners. Easily the most influential attacking player in the league.
SKC can win without half of their starting back line:
SKC played tonight's game without two of the league's best defenders in the league, Chance Myers and Matt Besler. However couldn't tell that from Sunday's game. Both Ike Opara and Mechack Jerome deputized fantastically, never allowing Chivas to catch them on the counter, as well as keeping clean possession in the back. Obviously Chivas isn't the greatest side, but they can threaten on their day, and SKC's patched up back line defended beautifully.
Time for Chivas to do away with three at the back:
It's exciting to see a team in the league deviating from the normal four man defense, but Chivas just don't have the tools to run three at the back. De Luna, Velazquez and Burling showed some individual defending ability, but not the communication and distribution needed to run an effective back three. Chivas' wide players are talented, but aren't sufficient enough in both attacking and defending to manage an entire flank. SKC's 4-3-3 actually might work well with Chivas, provided a staple of three players in the midfield as well as the solidarity of a back four.
Player Ratings:
Sporting Kansas City:
Jimmy Nielsen: 6, Didn't have anything to do.
Mechack Jerome: 6.5, Deputized well for Chance Myers, very athletic player.
Ike Opara: 6.5, Partnered well with Colin to provide an aerially dominating pair.
Aurelin Colin: 6.5, Normal fantastic self.
Seth Sinovic: 7, Attacked tremdously, providing countless overloads on the left side. Usual solid defending as well.
Paulo Nagamura: 7.5, Box-to-Box abilities are exceptional, runs out of the midfield often confused the Chivas defense.
Joseph Peterson: 6.5, Not as clean in possession as his midfield mates, but does provide strength in the tackle along with boundless injury.
Oriol Rosell: 8.5, Beautiful distribution, started countless attacks.
Graham Zusi: 9, Brilliance explained above.
Claudio Bieler: 8.5, Shows his designated-player class on a weekly basis, two goals today.
Jacob Peterson: 6, Industrious, but lacked the technical quality of his partners in attack.
Benny Feilhaber: 6.5, Very creative, could be a difference maker to bring off the bench in tighter games.
C.J Sapong: 7.5, Came on in a very easy situation, up a man with the match in control, but still showed undeniable talent with his raw athleticism and polished finishing.
Josh Gardner: 7, Assist for Zusi was a beauty, provided consistent wide play.
Chivas USA
Dan Kennedy: 5, Tough game.
Bobby Burling: 4.5, Struggled mightily in the back against the imposing Sporting attack.
Joaquin Velazquez: 5, Marginally better than Burling.
Mario de Luna: 5, Looked better in the midfield than in defense.
Jorge Villafana: 4, Had limited effect on a Sporting dominated wing.
Eric Avila: 5.5, Showed some attacking flair, more so than anyone else, but it still wasn't much.
Edgar Meija: 5.5, Better of the midfielders, was still reduced to a limited defensive role.
Carlos Borja: 3.5, Day to forget, caught out multiple times in defense.
Jose Manuel Riviera: 4, Didn't get any service but also failed to effectively track back.
Miller Bolanos: 4, No effect after being subbed in.
Julio Morales: 4.5, Played striker, but I couldn't really notice him,
Tristan Bowen: 5, Didn't get the open space he thrives on, also failed to create any chances to shoot.